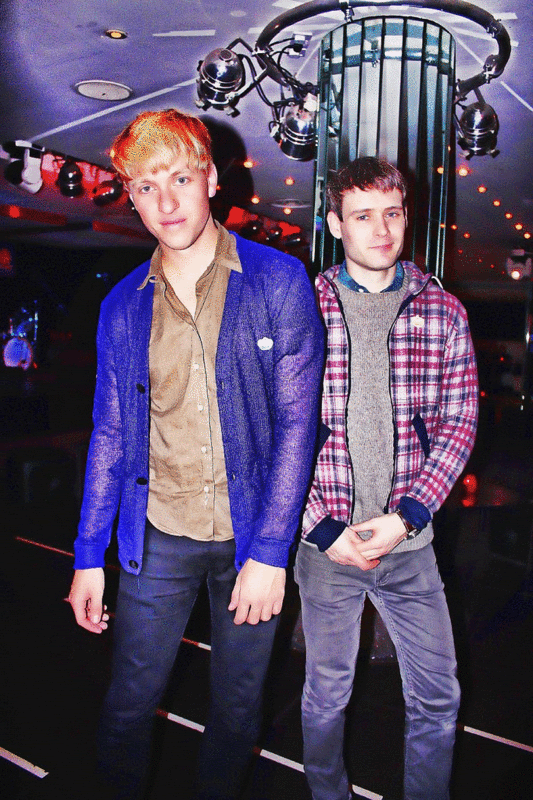 Jonathan Pierce and Jacob Graham From The Drums
It's a beautiful morning... (It's "
Let's go surfing"lyrics)
for The drums gig at 8:30am in the morning dance with some nice beagles
sandwich
and cafe!
I really like Jonathan Dance!! So cute!! I'm always trying to copy his dance!!
I really like their music inspire from " Orange Juice"! I used to listen lots of Postcard Records in
Scotland
songs like Aztem Camera as well! I was really inspired Neo Aco secne!!( Japanese say it in the Scene I think say in English Post punk.)
Also, Jonathan wears Queens Of Sounds New purple mohair cardigan for Spring!!
He told me My photo of him at last time was very good photo!!
I was exciting to have taken this dancing photo even though they were hard schedule and early morning.
Lovely guys,Thank you and see you come back in London soon!!
Thank you for the breakfast from
New York Bakery co.
Well, The Drums new album "Portamento" amazing!!
They played at the event!!
The Drums "Days" At New York Bakery Breakfast Club


The Drums "How It Ended" At New York Bakery Breakfast Club


Also The Drums will play in Yokohama,Japan
at "GREEN ROOM FESTIVAL" in May.

*Wake up
It's a beautiful morning...
Let's go surfing の歌詞のように朝8時半というありえない時間からのThe Drums
のギグに行ってきました! ベーグルサンドウッチ、コーヒー付きのイベントで食べながら大好きなジョンさんダンスのマネしてました。彼らの曲は"Orange Juice"という80'sのスコティシュバンドに影響されているっていろんなところで言ってますよね。日本語ではネオアコって言われて親しまれていました。英語だとポストパンク。私もかつてよくPostcard レコードという大元の一つになったバンドとかよく聞いていたので親近感わきます。特にAztec Cameraとか好きでしたよ。Roddy Frame!

そしてジョナサンが着ているのはQueens Of Soundsの新作のモヘアーカーディガン。薄くって軽いのでほんと春にもってこいです!
ジョナサンが前回の写真をすごいいい写真だったと褒めていただきとてもうれしかったです。
そして今回も忙しい中、早朝にもかかわらずウキウキで撮影させていただきました。
素敵な人たちです!本当に感謝!ニューヨークベーカリーさんにも感謝。おいしかったです。


***************: